Sassda Executive Director John Tarboton says; "Stainless steel water service pipes represent a simple, yet cost-effective solution to South Africa's water crisis, especially since international case studies from Tokyo, Seoul and Taipei show that plastic service pipes (PE or PVC) have an average global life of 20 years, while stainless steel service pipes can expect a minimum of 60 years. As Day Zero looms large in Cape Town, they are therefore definitely one of the solutions to consider in the longer-term, given their resistance to leaks and ease of use," he adds.
The local availability of the pipes stems from the opening of INOX Systems Boksburg factory in 2014. This heralded a big shift in the operation of the business, as prior to this most of its product had been imported from its sister company in Taiwan utilising the same machines that now find themselves on the shop floor in Boksburg.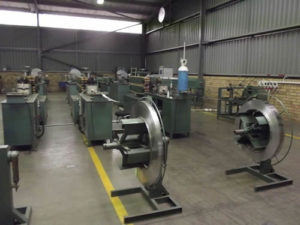 These machines now make up three key production lines namely a ~15mm Outer Diameter (OD) flexible connector, a Medium ~18mm Outer Diameter (OD) pipe and a Large ~25mm OD pipe. The Boksburg factory currently produces a couple of thousands of meters of its new range of corrugated stainless steel piping a month but would like to triple this figure, within the next few months.
INOX Systems General Manager Eric Levi reports; "At the moment we are trying to get continuity in our orders and increase them as we can more than meet that increased demand, given that the actual speed of production is very quick, which means we can produce 400 to 1 000 meters per shift, per machine, at full capacity."
Article from SASSDA (Southern Africa Stainless Steel Development Association)